Posted by bohdan.warchomij in : Metaphor Online, Petapixel , comments closed
As dry and windy conditions cause raging wildfires in California, there are brave men and women putting themselves in harm's way to document what's happening and serve as the eyes of the world. This incredible photo by photographer Noah Berger shows photographer Justin Sullivan braving wind-blown embers while covering the devastating Camp Fire in Paradise, California.
The ongoing Camp Fire is the deadliest and most destructive wildfire in the history of California. Since starting on November 8th, it has caused at least 42 deaths, burned over 125,000 acres, and destroyed over 6,500 buildings. By the end of its first day, it had essentially destroyed the town of Paradise, which had a population of over 26,000 people.
Berger and Sullivan were covering the fire together as it scorched the town, and Berger captured the above photo while Sullivan, a staff photojournalist for Getty Images, went low to photograph a KFC restaurant burning down. Above is the photo that resulted.
Berger is a veteran wildfire photographer, having covered a number of major fires in years past. You can find more of his work on his website and Facebook.
---
Posted by bohdan.warchomij in : Metaphor Online, Petapixel , comments closed
Check out this photo of a potato. It may look like a rather ordinary photo, but it's one of the most expensive photos in the world: it sold last year for a staggering $1,000,000+.
The photo, titled "Potato #345 (2010)," is by photographer Kevin Abosch, who charges huge fees to shoot portraits of famous business people in the Silicon Valley tech industry.
Business Insider reports that Abosch's "iconic black backdrop" portraits have become a sort of status symbol among the elites of business and entertainment — the rich and famous pay over $150,000 for a photo shoot with Abosch, and up to $500,000 if commercial usage is included.
In addition to shooting pricey portraits, Abosch is also a fine art photographer, and that's how the potato photo came about.
"Kevin likes potatoes because they, like people are all different yet immediately identifiable as being essentially of the same species".
"He has photographed many potatoes. This one is one of his favorites."
This self portrait is of Kevin Abosch himself.
Posted by bohdan.warchomij in : Metaphor Online, Petapixel , comments closed
Director Steven Soderbergh's latest movie is a psychological horror-thriller titled Unsane. This feature film has a big difference from his previous movies, though: it was shot entirely on the iPhone. You can watch the official 3-minute trailer above.
The synopsis of the movie reads: "A young woman is involuntarily committed to a mental institution where she is confronted by her greatest fear–but is it real or is it a product of her delusion?"
Soderbergh, who's known for films such as Erin Brockovich, Traffic, and Ocean's Eleven, tells IndieWire that he decided on shooting with an iPhone because he was impressed with the cinematography, and that he is likely to continue shooting with the iPhone moving forward.
"I think this is the future," Soderbergh tells IndieWire. "Anybody going to see this movie who has no idea of the backstory to the production will have no idea this was shot on the phone. That's not part of the conceit.
"People forget, this is a 4k capture. I've seen it 40 feet tall. It looks like velvet. This is a gamechanger to me."
Here is the trailer on the Peta Pixel site:
https://petapixel.com/2018/01/30/steven-soderbergh-shot-latest-film-iphone-heres-trailer/
Posted by bohdan.warchomij in : Metaphor Online, Petapixel , comments closed
Photographer Dmitry Markov grew up in Pushkino, a hardscrabble industrial town north of Moscow where, for Markov and many of his childhood friends, sniffing glue and spending days outside avoiding their alcoholic dads seemed relatively normal.
Somehow though, the 35-year-old plotted a course — through blogging, activism, and photography — that eventually won him grants and commissions from Russia's most prestigious publications (even if some tried to avoid paying him).  His story, put together by Amos Chappel is on the Peta Pixel site link below:
https://petapixel.com/2018/03/15/photographer-uses-iphone-shoot-russias-grittiest-streets/
Posted by bohdan.warchomij in : Amos Chapple, Metaphor Online, Petapixel , comments closed
Amos Chapple's interesting career intercepted with Uzbek photographer Max Penson. Here are photographs from both photographers.
Amos Chapple is a New Zealand photographer who makes news-flavored travel photos. He started off at New Zealand's largest daily paper in 2003. After two years chasing news, he took a full-time position shooting UNESCO World Heritage sites. In 2012, he went freelance but kept up the travel. Since then, he has been published in most major news titles around the world. You can find more of his work on his website, Facebook, and Instagram. This article was also published Radio Free Europe/Radio Liberty and Peta Pixel.
https://petapixel.com/2017/12/19/forgotten-photographer-soviet-uzbekistan/
As Central Asia was transformed under Soviet rule, Max Penson made a remarkable record of life in the fledgling Uzbek S.S.R. before being driven from his career and toward tragedy. Born in Belarus his life was spent in Uzbekistan where haunted by anti Semitism and poverty he eventually took his own life.
Posted by bohdan.warchomij in : Metaphor Online, Petapixel , comments closed
I took a very simple, old Soviet LOMO camera and loaded it with film. I reasoned that there are two ways to create multiple exposure work on 35mm film—either by using a special mode on your camera, or just load and shoot one film roll twice. With the LOMO, I used the latter method because it had no multiple exposure mode. Working like this was different from my Nikon—I had to shoot the whole roll and then go through it again afresh, meaning I lost control. As it was impossible for me to remember what I had shot in each frame, the resulting combinations were a consistent surprise.
It ended up taking me several months to finish exposing one roll twice. After developing it, my risk was affirmed. Some of the pictures were completely new and far divorced from the objects I shot.And for many of the combinations, I felt that they could not have existed in any other variation. Really, in the end, I felt that the bestcombinations had occurred.
I also soaked the film in various substances to increase the surreal feeling in the images. My technique was very spontaneous, I would use whatever I could get my hands on: lemon juice, detergent, wine, etc. Again, the results were a pleasant mystery. Even when I found a combination I liked, I chose to mix the ingredients without marking down my recipes—part of the continual experiment and the surprise.
I suppose the process for "Bloom" could be seen as unprofessional. But I prefer to look at it as risky and thus exciting. I never could have imagined that my images would look like this. Soaking the film could destroy it all—but if even one image came out well, it was worth it. As they say: the battle is worth the blood.
Technical aspects aside, "Bloom" is about colors and forms, about the subtle matters that surround us. It is about feelings. I believe that we "see" only the tiniest part of the whole world—we are not taught to see "deeper." All the unseen forces—their vibrations and energies—affect us and our lives. Tuning into these forces is a necessity if we want to be a part of the world.
—Polina Washington
https://www.lensculture.com/articles/polina-washington-bloom
Posted by bohdan.warchomij in : Galaxy Hyper Speed, Metaphor Online, Petapixel , comments closed
Peta Pixel continually surprises me with its discoveries. This week has been incredible. The Lytro Cinema Camera, credit card sized film that doubles as a camera and now Galaxy. Time to pull out the Hasselblad film cameras again. Direct positive photo paper is not typically the domain of 120 medium format film cameras. For those you usually use … well … film. But the folks at Galaxy Photography are changing the game with Galaxy Hyper Speed 120: rolls of direct positive photosensitive paper for medium format cameras.
http://petapixel.com/2016/04/14/galaxys-direct-positive-photo-paper-now-available-medium-format/
The product is a followup to the Galaxy Hyper Speed direct positive photo paper the company Kickstarted last year. But where that paper is meant to be used with large format cameras or pinhole setups, the Hyper Speed 120 can be used inside the many readily available 120 film cameras out there.
I will definitely try out the large format and 120 mm stock initially and show my results on this site. On a website the film looks great, nice tonal range and contrast. Quite excited by the concept.
It's the same exact ISO 120 direct positive paper, just wrapped up and ready to go for a different format.
Posted by bohdan.warchomij in : Metaphor Online, Petapixel , comments closed
This Glass Disc Can Store 360 TB of Your Photos for 13.8 Billion Years: a story by Michael Zhang Peta Pixel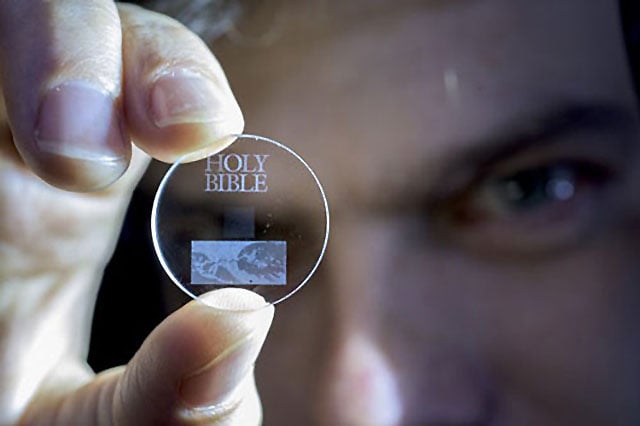 If you back up your photos on optical disks or storage drives, there's a good chance your data won't last as long as you do due to things known as "disc rot" and "data rot". But what if you want to ensure that your precious photos live longer than you? Good news: a new "eternal" storage technology may be on the horizon.
Scientists have created nanostructured glass discs that can storage digital data for billions of years.
Researchers at the University of Southampton announced this week that they've figured out how to store huge amounts of data on small glass discs using laser writing. They call it five dimensional (5D) digital data because in addition to the position of the data, the size and orientation plays a role too.
The glass storage discs can hold a whopping 360 terabytes each, are stable at temperatures up to 1,000°C (1,832°F), and are expected to keep the data intact for 13.8 billion years at room temperature (anything up to 190°C, or 374°F).
It's a discovery that "opens a new era of eternal data archiving" because the discs have "virtually unlimited lifetime," the university says, and museums, national archives, and libraries could benefit from having this eternal storage.
So far, scientists have preserved important documents such as the Universal Declaration of Human Rights (UDHR), Magna Carta, and Kings James Bible on individual discs that will likely survive the human race.
The 
Universal Declaration of Human Rights
 recorded on a 5D glass disc.
The researchers are now looking for companies to help bring this data storage technology to market. No word on when it might appear or whether it will be available and affordable to ordinary photographers, but perhaps one day we'll be able to store our entire lifetime body of photos on a single disc that is guaranteed to survive us (and all our descendants).
---
Image credits: Photographs by the University of Southampton
CLERA August 13, 2015
Posted by bohdan.warchomij in : Metaphor, Metaphor Online, Petapixel , comments closed
Photographer Anton Orlov has created what he believes is the world's first camera that's both completely transparent and fully functional. It's called CLERA, short for Clear Camera, and is a camera that you can also look into while a projected photo is being exposed.
Orlov first got the idea for this camera while working in a dark box with wet plate collodion photography. He noticed that the sunlight streaming in through the red windows didn't cause any light fogging in the resulting tintype photo.
"That's when it struck me," he writes on his blog. "Why not make a camera out of red material that would filter out UV and blue light!?"
Orlov then set out to turn his camera idea into reality. What he ended up creating was a simple daguerreotype box camera with a 19th-century Petzval lens purchased on eBay, red sheets of a nearly indestructible polycarbonate, and a spare 4×5 camera back.
After days of experimentation and "debugging," Orlov figured out how to make the camera work flawlessly in any condition. Here are some test shots created along the way (some show some fogging):
So what's the science behind this? "It's rather simple really," Orlov tells PetaPixel. "Quite a few photo materials are not sensitive to red light (think a red safelight in any darkroom — paper there doesn't fog) and so red light being all around those materials is no problem."
"These materials include the first photo technique the daguerreotype, tintype, photo paper both positive and negative, lithographic and orthochromatic films, and others that I likely missing right now," he says. "If it was panchromatic material like regular black and white films we mostly see today they would surely fog to oblivion with that much light around."
Orlov is now selling custom CLERA cameras to photographers who are interested. The camera can be designed around a particular lens of your choice — just drop him an emailto get the process started. Pricing is $350 for 4×5 (and smaller), $500 for 5×7, and $700 for 8×0.
A CLERA 2.0 is also on the way: Orlov says he's working on a sliding box design that allows for various lenses and shorter focusing distances (the current camera has a min distance of 6 feet).
(via The Photo Palace via Phogotraphy)
Posted by bohdan.warchomij in : Metaphor Online, Petapixel, Uncategorized , comments closed
The airways and Internet tubes have been filled with news that Peter Lik has sold a black and white photo of Antelope Canyon for a record setting $6.5 million, raising eyebrows amongst many photographers. This tops the previous record holder, Andreas Gursky, by nearly $2.2m.
Andreas Gursky's Rhine II sold for $4.2m – the most expensive (verified) photo ever.
As with his 2010 piece, One, the purported sale was to a private collector, and therefore there was no way to verify the claim. Rumors have swirled for years that Lik's investors "buy" his works at absurd prices as a marketing stunt to generate interest in his work. Lik has multiple galleries in the US and in his home country of Australia, and aggressive sales tactics are a hallmark of the galleries' style.
Price, of course, is arbitrary, and one could make the argument that the eye-rolling is rooted in jealousy. But I think that this is naive and dismisses the collective taste, experience and knowledge of most photographers. Let's be honest, this is not a remarkable image in any sense of the word. Nor is it a remarkable unremarkable image like Gursky's Rhein II.
Sara Friedlander, Vice President, Head of Evening Sales at Christie's explained that the price of a photo in the art world is based on an amalgamation of uniqueness, provenance and scale. You can dispute the validity of the art world's own self-righteousness and tendency to boost the price of its favorites, but you can't dispute Friedlander's criteria.