Head On April 24, 2014
Posted by bohdan.warchomij in : Head On, Head On Sydney , comments closed
24 Hours with Ben Lowy
Head On is offering you the chance to traverse the icons and underbelly of Sydney, receiving once in a lifetime mentoring and feedback from Ben whilst shooting alongside him
Head On April 24, 2014
Posted by bohdan.warchomij in : Head On, Head On Sydney , comments closed
The Lost Boys of Sudan, an exhibition by Chris Peken, is on at Head On . The images are 30″ murals on Fibre Base paper….. The images are awesome and their stories remarkable. This is a crowd funded exhibition, with proceeds from the sales at the show going directly to the Lost Boys. For more on the exhibition and help fund the project please click
http://www.pozible.com/project/180129
All the images have been shot on 6×6 B&W film. Chris self funded this project and Blanco Negro is proud to be a sponsor. Martine Perret is exhibiting at Head On as well. Check the website. Ben Lowy is the drawcard at this huge festival. He is running a workshop.
Posted by bohdan.warchomij in : Uncategorized , comments closed
From the series City Under One Roof
© Jen Kinney, winner of the 2013 edition
The Dorothea Lange-Paul Taylor documentary prize, organised by the Center for Documentary Studies at Duke University, was first launched to encourage collaboration between a photographer and a writer in the tradition of Dorothea Lange and Paul Taylor who worked together on the seminal work American Exodus. Last year, however, the prize was relaunched to allow solo photographers and artists to apply to the grant.
The $10,000 cash prize serves to support "documentary artists – working alone or in teams – who are involved in extended, ongoing fieldwork projects that rely on and exploit, in intriguing and effective ways, the interplay of words and images in the creation and presentation of their work."
The changes were introduced after the Center for Documentary Studies launched its Master of Fine Arts in Experimental and Documentary Arts at Duke University, which brings together two forms of artistic activity: "the documentary approach and experimental production in analog, digital and computational media," says Duke University.
There are no restrictions regarding age, nationality, or subject matter. The deadline for entries is 07 May, with the winner announced in September.
Posted by bohdan.warchomij in : Ukraine , comments closed
Editor's note: Andrey Kurkov is a Ukrainian novelist born in St. Petersburg in 1961. Having graduated from the Kiev Foreign Languages Institute, he worked as a journalist, did his military service as a prison warden in Odessa, then became a cameraman, writer of screenplays and author. His books are published in English by Harvill Secker in the UK and Meville House in the U.S. The views expressed in this commentary are solely his. CNN
For two nights between the 4th and 6th of March, I barely slept.
I was checking the Internet every hour to see if Russia had started war with Ukraine.
Then the feeling of imminent danger was replaced by emotional fatigue. Although a war still seemed unavoidable, it didn't inspire the same fear as in the early days of the occupation of Crimea.
ANDREY KURKOV INTERVIEW CNN
Ukrainian volunteers started to flow towards Crimea and the Eastern border with Russia, while roads filled up with armored personnel carriers and other military vehicles.
Ukraine was making an attempt to flex its military muscles, both to test the condition of the army and to reassure the population that we could protect ourselves.
It became clear that since independence in 1991 neither Ukrainian presidents nor the government had taken care of the military.
Nobody thought that Ukraine might need an army; it was as simple as that. Nobody thought that until this year and now it's an everyday topic. This, and a war with Russia.
Russian Foreign Minister Sergey Lavrov repeats each day that Russia doesn't plan to occupy eastern and southern Ukraine. But it would be odd if anyone believed him. Russia also didn't plan to annex Crimea. Even Russian President Vladimir Putin said that.
On March 5, Putin announced to the world that "military maneuvers" were successfully completed and by March 7 all Russian soldiers, together with their equipment, would be back in their usual location, leaving Crimea alone.
However, instead of the promised end of these "maneuvers," more than 10,000 Russian troops arrived in Crimea.
What to do with Crimea?
When it comes to the occupation of Crimea, the Ukrainian government stands firm. Something that must occupy the mind of Putin and others in the Kremlin. This position is without doubt due to the U.S. support of Ukraine.
The rest of the world agrees that Crimea is Ukrainian territory occupied by Russia. While Putin continues to show he is not interested in the opinion of the rest of the world, this fact will have rather serious consequences for the occupied peninsula itself.
Ukrainian International Airlines stopped all its flights to the Crimean capital Simferopol and Crimean residents are now anxiously waiting for the summer holiday season. A recent law passed in Kiev about occupied territories means that Ukrainians can't enter without prior approval from the authorities.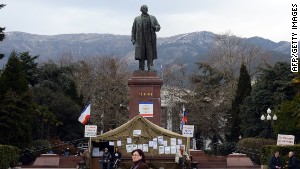 The statue of Lenin outside Yalta.
Russian Prime Minister Medvedev, who visited Crimea recently, promised 33 airplanes full of visitors from Russia each day during the summer.
There are times when I think that Russia occupied Crimea just so Ukrainian nationalists couldn't demolish its Soviet-era landmarks.
Andrey Kurkov, novelist
Under pressure from the Kremlin, Russian airlines — the only ones now flying to the peninsula — have slashed prices on flights. I think Russian oligarchs will soon receive an order from the Kremlin to buy holiday packages to Crimean sanitoriums and resorts for their employees.
Otherwise how will the Kremlin get 8 million Russian visitors promised to Crimea this summer?
And if all of Russia's citizens do decide to support Crimean hotels and resorts this summer, then who will visit the newly built super-resort of Sochi?
But the summer season in Crimea only lasts a little more than three months. And after that, what? Crimea produces wine and grows fruit. They can only export it to Russia, but Russia has enough wine and fruit of its own.
Putin will have no other choice but to follow Europe's example and subsidize farmers and winemakers so they don't grow anything and reduce wine production.
The impact of this "acquisition" on Russia's budget looks scary. No wonder that the pre-referendum promise to quadruple pensions for Crimea's residents has been replaced with one to reconsider it starting from January 2016.
Currently tram and trolleybus driver's salaries are frozen, the number of suburban trains had been cut and people are trying to figure out how to keep on living.
Building a Soviet 'Jurassic Park'
If the self-proclaimed Crimean government asked me the question: "How can Crimea keep on going?" I would answer that we should create some kind of theme park there.
Something between Disneyland and Jurassic Park, but much bigger and more exotic.
For the last 20 years Crimea has been known for its love for everything Soviet. Strictly speaking, Crimea has remained Soviet. Against the background of south Crimea's truly stunning coast, lovingly preserved Soviet monuments look very odd. My favorite one — a big statue of Lenin in Koreiz, not far from Yalta — has him standing on the cliff looking sternly in the direction of Turkey.
There are times, when I think that Russia occupied this peninsula so that Ukrainian nationalists couldn't demolish these Soviet-era landmarks, just as they did in Kiev and central and western Ukraine.
So in my eyes the only possible solution to the complex economical situation in Crimea would be the creation of a theme park of Soviet life. Considering that Putin has often said he considers the collapse of Soviet Union as his own personal tragedy, it wouldn't be too much of a risk to call the park, spread over 27,000 square kilometers, "Putinland."
A simple, scary scenario
But I know that for Ukrainians this is not the right moment for jokes. Nor for me either; I look towards the near future with anxiety. My main concern is that Russia will start destabilizing southeast Ukraine before the presidential elections on May 25.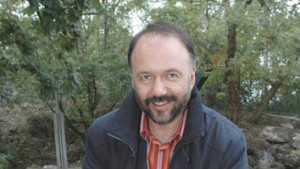 Andrey Kurkov
Putin has already declared that he won't recognize the results of the elections, but what is even more important for him, is that these elections don't take place at all.
Putin has said he won't recognize the results of the elections, but what is even more important for him is that they don't take place at all.
Andrey Kurkov, novelist
If they don't then he can keep talking about the illegitimacy of the government, the absence of a legitimate president, and he can move further into Ukraine under the pretext of protecting the Russian-speaking population.
The scenario of the Russian expansion could look very simple: May 9 will be commemorated as Victory Day — something of an annual cult holiday for many in Russia. You can expect that this year communists and pro-Russian activists in the south and east of Ukraine will demonstrate, claiming to be commemorating victory over Nazi Germany.
The gatherings will follow a familiar pattern: the occupation of local government buildings and the planting of Russian flags on their roofs.
It is clear that Ukrainian authorities have got stronger and will use police and the security services to prevent this happening.
Riots will start with the first victims coming from the protesters and police. At that point Russia can send in its armed "peace-keeping" forces in to bring order. I am afraid that once Russian "peace-keepers" enter Ukrainian territory they will not stop until they get to Kiev.
That is because the Kremlin's main goal remains to put a pro-Russian government in Ukraine, the kind that will sign an agreement of friendship and cooperation and will recognize to Crimea as a Russian territory.
Only when this agreement is reached can Russia finally relax and develop the Crimean peninsula legally and without the fear of political and economic sanctions from the European Union and the U.S.
Posted by bohdan.warchomij in : Daniel Njegich, Free Range , comments closed
Victims of Politics
[ Daniel Njegich ]
Thu Apr 17 2014 – Fri Apr 25 2014 opening » Thursday 17th April 7-10pm gallery times» Saturday 19th April: 10am-5pm, 20th (Easter Sunday): 12-4pm, 21st (Easter Monday): 12-5pm, Tuesday 22nd – Friday 25th: 11am-5pm
In a developing country like Bangladesh where there is a murder somewhere everyday, where political clashes can take a hundred or more lives in a matter of a few months and election-violence is a foreseen inescapable reality, very little can desensitize the general public from such horrors. In the year 2013, the general public rose up to take a stand against such unacceptable killings only on two occasions – once in April when a garments factory collapse took the lives of 1100 workers, and the other in November, when a 14 year old boy with his entire body burnt toppled into the emergency unit of a public hospital in the capital.  A total of 507 people were killed in political violence in Bangladesh in 2013, making it the deadliest year since the country's independence four decades ago.  Petrol-bombs do not only inflame and burn  – they leave behind a black, peeling, swollen, disfigured mass in human form. They do not only injure – they turn a well-loved face into a mask horrifying to all those that behold it.  Around sixty people died a painful, lingering death were every waking moment was a prayer for it all to cease. Countless more took an agonizing road to recovery – although it is debatable whether a majority of them will ever fully recover.  However the public hype surrounding the victim's die down soon enough when they have something else to distract them. As long as the public eye stayed on the victims, so did some level of accountability.  Through January 2014, there were 8 victims in the Burns Unit at Dhaka Medical College and Hospital who had suffered burns to a large proportion of their body from petrol bomb attacks, supposedly from activists of the opposition party, some patients had been there since November 2013 and some recently arriving, early in January. One lady passed away from her injuries.  The burns unit at the hospital is a government project – the only government burns unit in a country of more than 150 million people. The conditions are poor, there is a lack of staff, hygiene doesn't exist and a stench of burning flesh lingers through the corridors of the unfinished building, however the doctors, the nurses – do care. That's what matters, without the burns unit, more people would die.
Posted by bohdan.warchomij in : Bohdan Warchomij Photographer, Larry Towell, Magnum, Metaphor, Metaphor Images , comments closed
Although the fighting has ceased, the Maidan Square demonstrations in Ukraine throughout February 2014 set the stage for the current political climate in the Crimean Peninsula. Larry Towell arrived in Kiev on February 11th, 2014 to document the Euromaidan protests and demonstrations. Only one week later Maidan Square transformed into a conflict zone, and by February 20th over one hundred people had been killed.
With a 35mm XPan panoramic camera in hand, Larry Towell  captured this moment of social and political turmoil with a unique, monochrome perspective. Deja vu for me. Ten years earlier I was lucky to be in the Maidan witnessing a precursor of the Ukrainian people's struggle for freedom during the Orange Revolution. Larry Towell's images can be found on the Magnum Photos Blog site.
Posted by bohdan.warchomij in : Ukraine , comments closed
Russia has its eyes set on bigger goals than Ukraine – it wants to tear apart the territorial status quo created in Europe after the fall of the Soviet Union, says Jonathan Eyal of the Royal United Services Institute.
The most immediate topic of discussion at Tuesday's meeting of Nato foreign ministers – the first since Russia's annexation of Ukraine's Crimea peninsula – was whether Russian troops currently massed on Ukraine's borders were likely to launch a new invasion deep into Ukraine's ethnically mixed eastern provinces.
The chances are that such an invasion will be averted. But Russia's security threat to the European continent remains both substantial and systemic, and is likely to endure for years to come.
There are a number of very concrete reasons why Russian President Vladimir Putin is unlikely to send his troops into eastern Ukraine.
"As President Putin sees it, he now has in his hands the instruments to undermine Ukraine without actually firing a single shot"
The first is that, although the region has many ethnic Russians, it also has many Ukrainians who are likely to resist a Russian occupation. So, unlike the swift and bloodless takeover of Crimea, an occupation of eastern Ukraine is almost certain to embroil Russian troops in serious fighting.
Eastern Ukraine is also a much larger territory, requiring a substantial force to pin down. And unlike Crimea, there is no obvious geographic limit to this territory: the Russians therefore risk becoming involved in a major military adventure with no immediate "exit strategy".
But the most important reason why Mr Putin will not send his troops into Ukraine now is that he has other ways of achieving his objectives.
He knows that Crimea is his to keep, and that no Western government is likely to challenge this newly acquired Russian province. At Sunday's meeting in Paris between US Secretary of State John Kerry and his Russian counterpart Sergei Lavrov, Crimea was not even mentioned in the communique released to the public.
Ukrainian 'federalisation'Russia's most immediate task is to prevent Ukraine from joining Western economic and security structures such as the European Union or Nato, to keep the country in suspended animation as a buffer zone, belonging to neither East nor West.
And that can be accomplished by persuading the West to accept what Moscow likes to call the "federalisation" of Ukraine.
Russia's demands for the creation of a federal Ukraine are very sweeping. They include a proposal that Ukraine's regions will have a say not only over local affairs, but also over "Ukraine's foreign policy direction" – a more polite Russian way of saying that the ethnic Russians inside Ukraine will be able to block the country's pro-Western orientation.
Crimeans have swapped their Ukrainian passports for Russian ones
And, if this strategy does not work, Moscow can resort to the simple expedient of encouraging ethnic Russians in Ukraine to declare their separation and even secession from the Ukrainian state. As President Putin sees it, he now has in his hands the instruments to undermine Ukraine without actually firing a single shot.
Moscow has also signalled a determination to apply the same approach to other parts of Europe where ethnic Russians may reside, particularly the Trans-Dniester region in the former Soviet republic of Moldova, and in the Baltic states.
Most of the Russians there have already been issued with Russian passports or identity documents, precisely in order to strengthen Moscow's claim to speak on their behalf.
The purpose of this grand strategy is clear: to tear apart the territorial status quo created in Europe when the Soviet Union collapsed in 1991, a status quo which, as President Putin has repeatedly observed, Russia considers both unjust and unsustainable.
That does not need to be achieved by occupying and reabsorbing former Soviet republics. It could just as easily be accomplished by undermining key countries from within.
Nato's tough featAs a military alliance trained to repel external aggression, Nato is ill-equipped to deal with such internal challenges.
But in the days to come, the alliance will have to show its mettle by staging various military exercises particularly in the small and vulnerable Baltic states, in order to reassure them and other Nato members that the alliance's security guarantee remains valid and relevant.
Russia must be left under no illusion that, should it try to interfere with a Nato member-state, the response will be swift, and include a military component.
Nato's speciality is fighting external aggression, not dealing with a nation's internal challenges
A truncated Ukraine may yet succeed in preserving its independence.
But the events of the last few weeks are not just a blip in East-West relations. They mark the end of an era, the end of the hope that Russia could be incorporated into a united and peaceful European continent.
Historians may have the luxury of arguing over who should be blamed for this sad development.
Today's Western politicians, however, have no choice but to deal with the new reality outlined by Mr Putin: the future belongs to more, rather than less, east-west confrontation.
Posted by bohdan.warchomij in : Ukraine , comments closed
This is not a unique situation but it places the reality of what is happening to people in Ukraine into focus. It is worth reading and understanding and sharing. Lyubov Sirota's situation has touched many people including Yuha Tolonen, Perth photographer and academic who is a personal friend of the poet. It is a pleasure to share Lyubov Sirota's story on this blog.
Bohdan Warchomij Editor
MARCH 25, 2014
Debra Romanick Baldwin,  Associate Professor English Department; Contributing Writer University News: University of Dallas
On March 21, 2003, I wrote an email out of the blue to a poet whose poems I had just discovered — poems that moved me greatly. "Thank you for my tears," I wrote, and her reply, thanking me for my email, pointed out that I had written to her on International Poetry Day, a happy coincidence.
The poems in question were the Chernobyl Poems of Lyubov Sirota, and the poet, Lyubov Makarovna Sirota, was an eyewitness to the Chernobyl nuclear disaster.
In 1986, she was living in Pripyat, a thriving city of more than 50,000 people located less than two kilometers from the nuclear power plant. (The Soviet authorities, of course, were anxious to suppress the extent of the catastrophe, which is why Pripyat and its inhabitants remained conspicuously absent from official news reports). She worked in the city's arts center, directing children's programs as well as writing and directing her own plays. Then, on the night of April 26, catastrophe happened. After a whole day of uncertainty and misinformation, Lyubov and her young son Alex (nicknamed "Sasha") were loaded onto buses along with other inhabitants of Pripyat. They had left everything behind.
This month, she is a refugee once again, and her experience offers a face behind the abstract events in the news.
I should start by saying that for 11 years now, I have not only corresponded with her regularly, but also worked extensively with her on English translations of her poems and essay, "Excessive Burden," which chronicles the agonies of the women of Chernobyl and the heartbreaking illnesses of their children. I hope to write a book about her. It is an astonishing experience to read her expressions of a spirit that remains indomitable in its love despite unspeakable pain and unimaginable heartbreak, steadfast against bitterness. Indeed, "Lyubov" means "love" both in Ukrainian and Russian, and it is what her poetry exhorts us to over and over:
Do not kill an angel in yourself.
Do not cut, do not break the wings.
Do not believe in greedy predictions
promising you earthly abundance.
For though his look is sometimes hard and bitter
as you step along the cruel path -
only he can grant you love.
In 1986, after being relocated to Kyiv, the capital of Ukraine, Lyubov began the slow process of adjusting to displacement, poverty and health problems. However, in the months and years that followed, she met fellow poet and translator, Victor Grabovsky, and despite her chronic ill health from radiation exposure, she flourished in her creative work, writing poetry and essays and co-authoring Rollan Sergienko's Chernobyl film, "Threshold."
Largely through the efforts of Professor Paul Brians of Washington State University (better known on this campus, perhaps, for his book, "Common Errors in English Usage"), her work gained exposure, translated and anthologized internationally. Victorcontinued in his own work while he was chief editor of Kyiv National University Press, producing volumes of essays, poetry, translations and two novels and receiving the Oheinko Prize in 2012 for distinguished contribution to Ukrainian letters. Of particular interest to our campus is his book on the little known poems and prayers of Karol Józef Wojtyla.
Then, last spring, Lyubov and Victor, who has now retired, decided that they would sell their small apartment in Kyiv in order to make it possible for Alex at last to buy a small cabin in a district near Pripyat. They would use the remaining money to buy an even smaller apartment in Gaspra, in Crimea. They had vacationed in Crimea some summers past, and now it was the place they thought they might live. Lyubov emailed me when they arrived,and I asked if it was a place that her son and his family could stay for vacations. She replied: "No, my dear, Sasha and his family could not live with us here, because the overall size of our apartment is 31 square meters [334 square feet] – along with a balcony, a tiny hallway, a tiny kitchen without a gas stove, and a small bathroom with a toilet and a good shower." But she added: "Of course, there are still many unsolved problems but, thanks God, all difficulties and problems already have gone to the second line. In addition, all difficulties are solved much more easily against the background of the amazing sea every morning and wonderful, fabulous nature. So we're looking forward to new creative Crimean period of our lives. My Kyiv friend Lena said, 'You didn't buy an apartment, but health and life!' (Wait and see!)…" (7/14/13).
Five months later, what they saw, from afar, was EuroMaidan, as protestors took to the streets in Kyiv's Maidan Square to protest Victor Yanukovich's abandoning an agreement that Ukraine would seek closer ties with the European Union. Watching it live-streamed on the Internet, Lyubov was enthusiastic about the protest, which she viewed as being about much more than economics, but rather about freedom itself. She told me later that "Many priests of different Christian denominations offered services and prayers on the Maidan stage (almost every hour) and even leaders of other religions were there often together (including Muslims and Jews!) — it was one of the amazing spiritual features of the Maidan … Prayer in common is a weapon which evil fears!" On Dec. 13, she wrote: "Unfortunately, we with Victor are far from EuroMaidan, like you, and we can only pray for our victory, victory of Love and Peace in our dear Ukraine!"
We lost touch through most of January and by the beginning of February, the situation became tenser. She wrote on Jan. 24, "Forgive me, my dear, that I failed to respond to you immediately, because now we have a terrible and emotional stress days in Ukraine … The one thing, that no matter from anything, I try to do — is every day to put the most important information on Google and Facebook, so that more people can know the truth about the events in Kiev and Ukraine … And of course we constantly pray for our victory over the anti-Ukrainian gang in power …" And that was the refrain over and over from the protesters in the square: "Criminals, out!" Thanks to her links, I, too, was able to watch the square via live streaming.
On Feb. 18, events in the Maidan took a violent turn: Government snipers began shooting at peaceful protesters, and in the next four days, over 100 protesters were shot. The protesters fought back, setting a huge defensive wall of debris ablaze, and arming themselves with Molotov cocktails. The violence only ended when President Yanukovich fled the country.
Then, on Feb. 25, the specter of violence turned its attention to Crimea. I received an email from Lyubov that day: "My dearest Deb! In this time I can't write you, so sorry! But I'll try to write you soon. Now I only can to say that situation here in Crimea is very disturbing and dangerous. Please pray for us!"
On Feb. 28, after Russian troops finally formally invaded Crimea, I lost touch with Lyubov. Internet connections and television stations had been severed. Of course, I was frantic, and I hunted through old emails to see if I could find an email contact for Alex, which I did. He replied on March 1 that his mother and Victor were going to attempt to leave by train. On March 3, Lyubov wrote me that they had made it back to Kyiv, and then to Alex's little cabin:
"Thanks God and Sasha today in morning we with Victor and Radyasya [their cat] arrived … The way was so hard, therefore now I can't write you more. I'll try to do it tomorrow…"
Of course, I wanted to know everything, what made her leave then. She wrote:
"We did not want live any more in a territory occupied by aggressors — in lies and injustice! Besides, it was getting really dangerous, especially for Ukrainians. One night I heard some very heavy car drive up to our house, and then voices and the sound of feet on the stairs — and already I was thinking that these unidentified armed men could at any moment … break down our door. It wasn't much better to stay isolated in the apartment, with the electricity shut off, no water or internet (the Ukrainian TV channels were disconnected before the pseudo referendum!)"
I asked her how she made it out, and she explained:
"When Sasha learned that 'strange' military cars and so-called 'unidentified military people' had captured the train stations and other places in Crimea, he immediately bought us tickets through the Internet. We had to go the very next day. I called to the train station and asked whether the train was stilling going to Kyiv. The dispatcher answered me: 'Today it's going, but what will happen tomorrow, I do not know!' … In short, we were fortunate that we were able to leave the Crimea before the searches started on station platforms and in trains. For two days after we left, they have broken computers and similar equipment of people. And this is what I feared most, because in addition to documents and some other necessary things that we naturally took with us, we took the most important thing: our laptop, with all our creative works and our archive! So, thanks to God and Sasha we managed to leave Crimea in time … However, now again, as after the evacuation of Pripyat, I'm again without shelter and livelihood … But then I was young, healthy and still full of energy … And now I and Victor have neither one nor the other, nor the third. Of course, I understand that, that it's all temporary difficulty, that life somehow will get arranged …"
So now, 28 years after being evacuated from Pripyat, Lyubov Sirota is homeless again, and back on the border of the Chernobyl Exclusion Zone. She cannot go back to Crimea; she has lost her savings, for she and Victor do not know what will become, what has become, of their little apartment in occupied Crimea; their son's one-room cabin is not big enough to accommodate his wife and child and his parents, too.
Here in Irving, I reread a poem of hers that I translated in the summer of 2010, now echoing in ways she could not have imagined:
For My Son
I build the house from dewdrops,
I weave walls from fragrant grass …
I build the house, for us together, my son,
from clouds desperately billowing…
From forest scents I weave a carpet,
and a birdsong – slate for a roof!
Let our house sing, laugh, cry, breathe and rejoice –
to be in such an open space!
I build the house on four winds, near four roads
that all messages may fly to us.
So that sorrow, pain and fear
are ground into the roadside dust…
I build the house from dewdrops
and a light refracted by a smile…
I build the house on very unsteady ground, –
Forgive me this impracticality,
my son.
You can read more poems at http://public.wsu.edu/~brians/chernobyl_poems/chernobyl_index.html. If you want to send or add your own expressions of support, please email me at dbaldwin@udallas.
Debra Romanick Baldwin
Thank you to those who have emailed messages of support. If you would like to make a donation to help Lyubov and Victor rebuild their lives, you can do so athttps://www.giveforward.com/fundraiser/5t94/lyubov-sirota
Posted by bohdan.warchomij in : Afghanistan, Anja Niedringhaus, AP , comments closed
ACCLAIMED PHOTOGRAPHER ANJA NIEDRINGHAUS DIES
By ANGELA CHARLTON
Anja Niedringhaus, 48, was killed and an AP reporter was wounded on Friday, April 4, 2014 when an Afghan policeman opened fire while they were sitting in their car in eastern Afghanistan. Niedringhaus an internationally acclaimed German photographer, was killed instantly, according to an AP Television freelancer who witnessed the shooting. Kathy Gannon, the reporter, was wounded twice and is receiving medical attention. (Photo/Markus Schreiber)Anja Niedringhaus faced down some of the world's greatest dangers and had one of the world's loudest and most infectious laughs. She photographed dying and death, and embraced humanity and life. She gave herself to the subjects of her lens, and gave her talents to the world, with images of wars' unwitting victims in Afghanistan, Iraq, Bosnia and beyond.
Shot to death by an Afghan policeman Friday, Niedringhaus leaves behind a broad body of work — from battlefields to sports fields — that won awards and broke hearts. She trained her camera on children caught between the front lines, yet who still found a place to play. She singled out soldiers amid their armies as they confronted death, injuries and attacks.
Two days before her death, she made potatoes and sausage in Kabul for veteran AP correspondent Kathy Gannon, who was wounded in the attack that killed Niedringhaus, and photographer Muhammed Muheisen.
"I was so concerned about her safety. And she was like, 'Momo, this is what I'm meant to do. I'm happy to go,'" Muheisen recalled. And then they talked, and argued. Mostly, they laughed.
Niedringhaus, 48, started her career as a freelance photographer for a local newspaper in her hometown in Hoexter, Germany, at the age of 16. Her coverage of the fall of the Berlin Wall led to a staff position with the European Pressphoto Agency in 1990. Based in Frankfurt, Sarajevo and Moscow, she spent much of her time covering the brutal conflict in the former Yugoslavia.
She joined The Associated Press in 2002, and while based in Geneva worked throughout the Middle East as well as Afghanistan and Pakistan. She was part of the AP team that won the 2005 Pulitzer Prize for Breaking News Photography for coverage of Iraq, among many journalistic awards and honors for her work. In 2006-07, she studied at Harvard University under a Nieman Fellowship.
"What the world knows about Iraq, they largely know because of her pictures and the pictures by the photographers she raised and beat into shape," said AP photographer David Guttenfelder. "I know they always ask themselves, 'What would Anja do?' when they go out with their cameras. I think we all do."
Niedringhaus captured what war meant to her subjects: An Afghan boy on a swing holding a toy submachine gun. A black-clad Iraqi giving a bottle to her baby as she waits for prisoners to be released. A U.S. Marine mourning the loss of 31 comrades.
Other images showed life going on among the killing: A Canadian soldier with a sunflower stuck in his helmet. A young girl testing her artificial limbs, while her sister teasingly tries to steal her crutches. A bearded Afghan man and grinning boy listening to music on an iPod borrowed from German soldiers.
"Anja Niedringhaus was one of the most talented, bravest and accomplished photojournalists of her generation," said AP Vice President and Director of Photography Santiago Lyon. "She truly believed in the need to bear witness."
She didn't stop caring when she put down the camera. In 2011, she photographed a Marine who had been evacuated from Afghanistan with severe injuries. She wanted to know what happened to him, and after six months of searching she found him. She showed him her photos from that day, and gave him a piece of wheat that had stuck to his uniform when he fell; she had plucked it and saved it when she was done taking photographs.
"I don't believe conflicts have changed since 9/11 other than to become more frequent and protracted," she told The New York Times in a 2011 email exchange. "But the essence of the conflict is the same — two sides fighting for territory, for power, for ideologies. And in the middle is the population who is suffering."
Niedringhaus was injured several times on assignment, including having her leg badly broken in the Balkans after narrowly escaping an ambush. She suffered severe burns to her leg in Iraq, and received a shrapnel injury while on patrol with Canadian forces in Afghanistan.
There were many more close calls; after one, in Libya, she took up smoking again five years after quitting.
"Benghazi was hell today," she wrote a colleague from Libya in 2011. "The tanks came in while I was brushing my teeth." In the days to come, she sheltered with a local family, sleeping on the floor. When the gunfire in front of the house kept her awake, she listened to music on her iPhone.
While she rejected the idea that she was fearless, she made colleagues feel safe in danger zones. She insisted on local freelancers getting the same protections that visiting staff photographers had.
She was as stubborn as she was caring.
"If she believed in something, she was convinced she was right and there was almost nothing you could do to dissuade her," said former AP reporter and editor Robert Reid, who met Niedringhaus in Kosovo in 1998 and worked with her in Iraq and Afghanistan. He said she was determined to cover the U.S.-led military presence in Afghanistan to the very end, even as the world's interest waned.
She captured victory too — on Olympic podiums, at World Cups, at Wimbledon and beyond. And world diplomacy, solar airplanes and cow-fighting contests.
And she found fun in it all.
AP photographer Jerome Delay, who met her in Sarajevo in the 1990s, remembered playing ping pong with Niedringhaus on a dining table at the Palestine Hotel in Baghdad. Back home on another continent that might have been another planet, he wrote, "we raced our motorbikes around Lake Geneva between G-7 photo ops and riots."
This summer, after covering tennis at Wimbledon, she planned to swim the width of Lake Geneva.
Anywhere, everywhere, she laughed — a wide-mouthed, head-thrown-back laugh that could wake an army and infected everyone nearby.
At an exhibit of her work in Berlin in 2011, she said: "Sometimes I feel bad because I can always leave the conflict, go back home to my family where there's no war."
That family includes her mother, two sisters and an aunt. Several years ago the family bought an old house in the central German town of Kaufungen, where she liked to spend time with her niece and nephews.
Her teenage niece and goddaughter won first place in a riding competition Friday and dedicated the victory to her.
Niedringhaus is the 32nd AP staffer to die in pursuit of the news since AP was founded in 1846.
"This is a profession of the brave and the passionate, those committed to the mission of bringing to the world information that is fair, accurate and important," said Gary Pruitt, the AP's president and CEO. "Anja Niedringhaus met that definition in every way. We will miss her terribly."
___
Associated Press journalists around the world contributed to this report.
Posted by bohdan.warchomij in : Russian Politics , comments closed